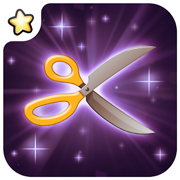 A special treat for fans of the chart topping Stardoll game Cut It!. Available in a spooky Halloween Edition that will have you shivering with fright!
- In the top 10 in 22 countries
The terrifyingly fun Cut It Halloween Edition lets you battle ghosts, ghouls and goblins in your quest to uncover frighteningly fashionable backgrounds and new Halloween furniture for your Stardoll Suite. Brave the game as it is, or gain an extra advantage by shopping for an indestructible Gold Boost power-up!
Don't fear, Cut It Halloween has the same classic gameplay as the original Cut It where you control scissors that cut through an image to reveal dazzling backgrounds.
Can you clear the levels without losing all your lives?
Cut It Halloween features:
- 50 new frighteningly fun levels to play through
- 20 pieces of unique spooky Halloween furniture for your Suite
- 10 new patches to collect for your patch album
- 10 Halloween backgrounds to uncover
- New menus!
- New cute monsters!
- New eerie sound effects & music!
- A shop with coins and the mighty Gold Boost power-up